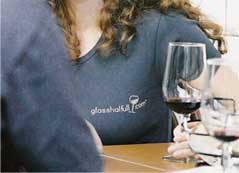 It Can Be All About
You'll create a buzz as your company name will be seen and smiled upon by countless wine lovers and their friends who want to buy an utterly perfect gift.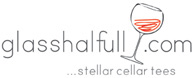 Put your logo on the front of our tshirts!
There really couldn't be a better place to wine about your brand.
Your Company







Your custom logo order includes your choice of wine line on the back, with the glasshalfull.com logo oh-so-discreetly underneath that.
Our shirts are dark gray ("asphalt" as per our tshirt manufacturer, American Apparel) with white lettering. While we're sure you'll love the elegance of our look and color combination, other shirt colors are available that may work better with your company logo.